Welcome to the Godzilla plushie buddies Wiki!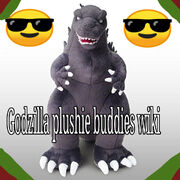 Welcome!We're a collaborative community website that anyone, including you, can build and expand. we hope you will help grow Godzilla plushie buddies! Popular articals include: Godzilla Biollante Destroyah Plushes. our freinds: www.gojipedia.fandom.com www.wikizilla.org www.destoroyah.fandom.com https://shmonsterarts.fandom.com
Important articles
Need help building out this community?
also vist
www.destoroyah.fandom.com
You can also be part of the larger Fandom family of communities. Visit Fandom's Community Central!
mai
Community content is available under
CC-BY-SA
unless otherwise noted.